THE EXPRESSION OF WHAT MAKES VACHERON CONSTANTIN EXCEPTIONAL
There are some watches that leave their mark on both time and the world of Fine Watchmaking. Whether complicated watches or works of art, these pieces are exceptional and each reflects a unique technical and aesthetic signature. From 1755 to today, these are the watches that undeniably created the Vacheron Constantin legend.
1755
THE FIRST KNOWN WATCH BY JEAN-MARC VACHERON
The pride and joy of Vacheron Constantin's heritage, this silver piece bearing the "J.M. Vacheron à Geneve" signature on its movement is the only watch known that identifies the founder of the Maison by his first name. Featuring a crown-wheel escapement, this watch is decorated with "delicately chased gold hands". The finely worked balance-cock on the most visible part of the movement is also evidence of an expertise that was already perfectly mastered. These high technical and aesthetic standards would go on to become a part of the Vacheron Constantin identity.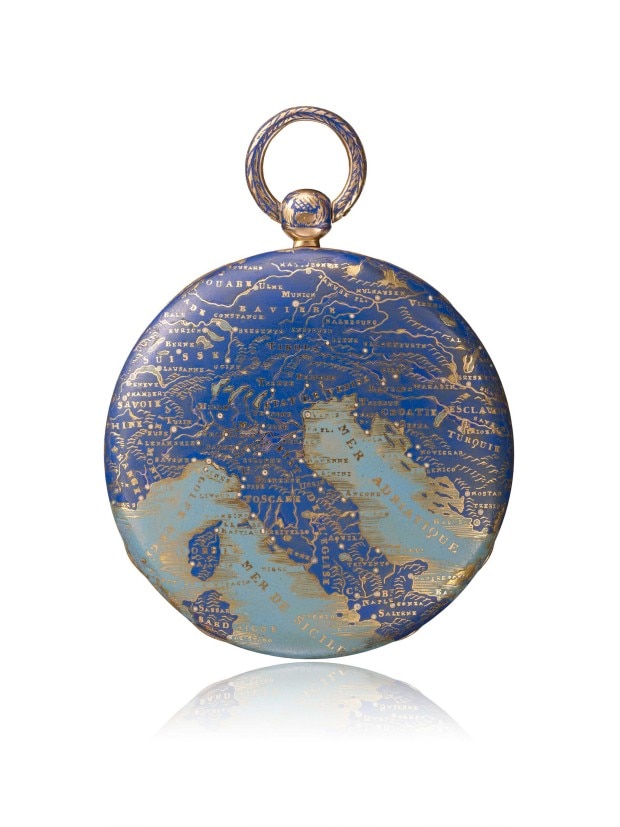 1824
ITALY
This yellow gold pocket watch is subtly decorated with a map of Italy, engraved and enameled using the champlevé technique. Its entirely guilloché silvery dial is decorated with 12 enameled Roman numerals arranged in an hour circle. The small seconds guilloché subdial also features an astonishingly modern checkerboard pattern. The attention to detail and perfection in the craftsmanship are characteristic of the Genevan decorative tradition.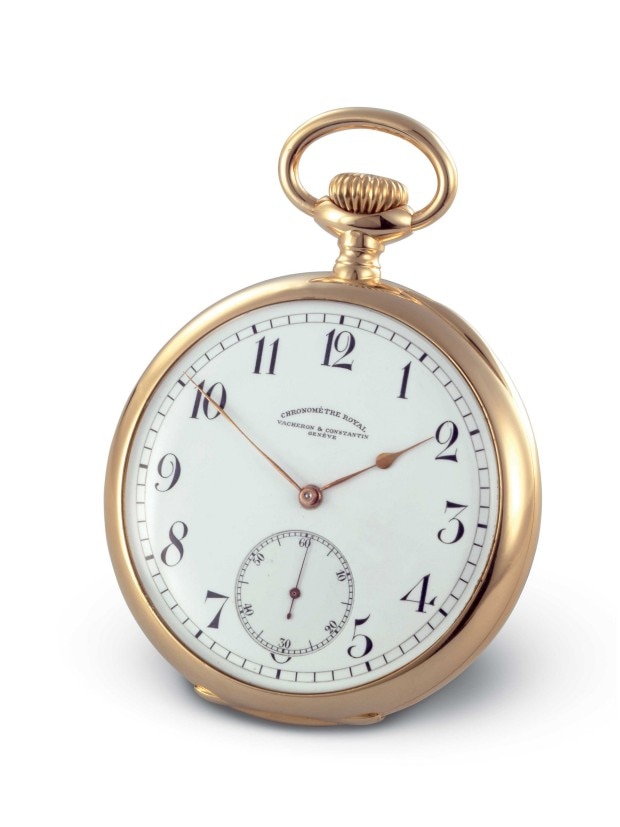 1907
CHRONOMÈTRE ROYAL
The Maison released its first Chronomètre Royal in 1907 and had the name trademarked. This pocket chronometer really stood out from the other watches being made at the time and would quickly become a worldwide success. Its legendary durability, reliability, and precision were very much appreciated by those who lived in climates that were considered, up until then, as ill-suited for the proper functioning of a watch.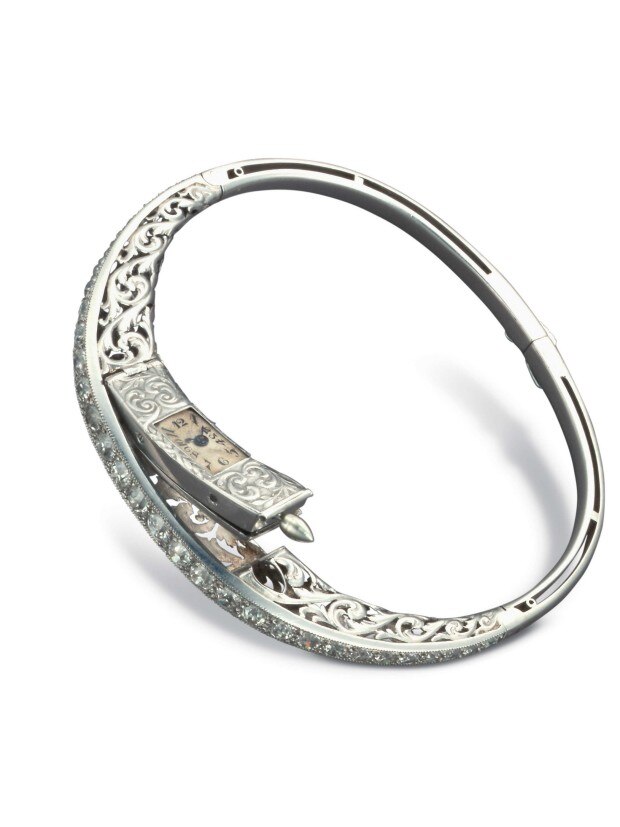 1916
THE MAHARAJA OF PATIALA
During 1914 and 1915, the Maison created a small oblong movement called le tuyau (the pipe). A forerunner of the baguette movement, 26 mm long and 6.5 mm thick, this caliber was used in a curved version for an absolutely stunning wristwatch. Made of gold, platinum, and diamonds, the watch stands out thanks to the ingenious craftsmanship of its openworked, chased, and engraved case. This presumably unique piece was commissioned by Sir Bhupinder Singh, Maharaja of Patiala.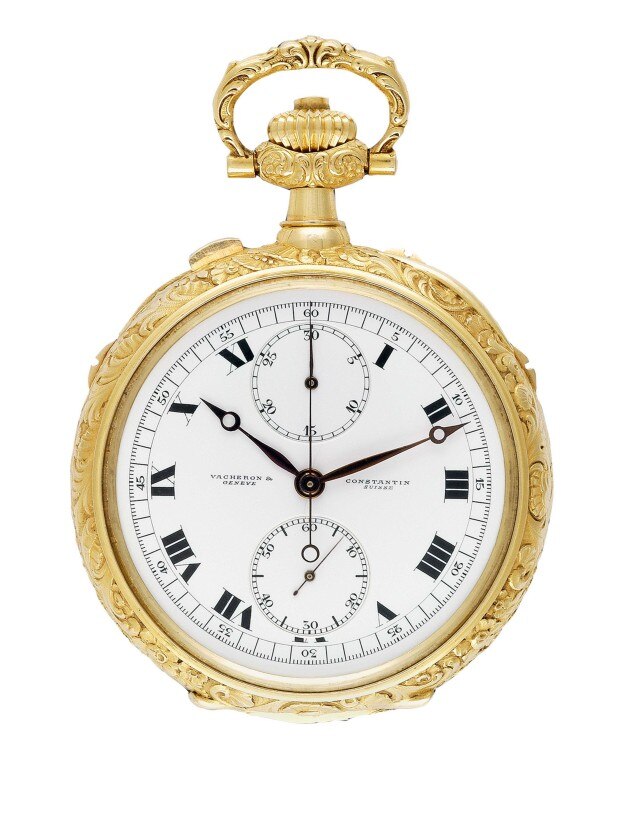 1918
JAMES WARD PACKARD
Behind its seeming simplicity, this pocket watch hides an exceptionally complex mechanism. Created for the famous American automobile manufacturer and watch collector James Ward Packard, this piece combines several particularly unique complications: chronograph with 30-minute counter, petite sonnerie and grande sonnerie, and quarter hours and half-quarter hours repeater. Among its other features are the Guillaume compensation balance, a rock crystal glass, and a chased case in 20K gold, personalized with the owner's monogram in blue enamel champlevé.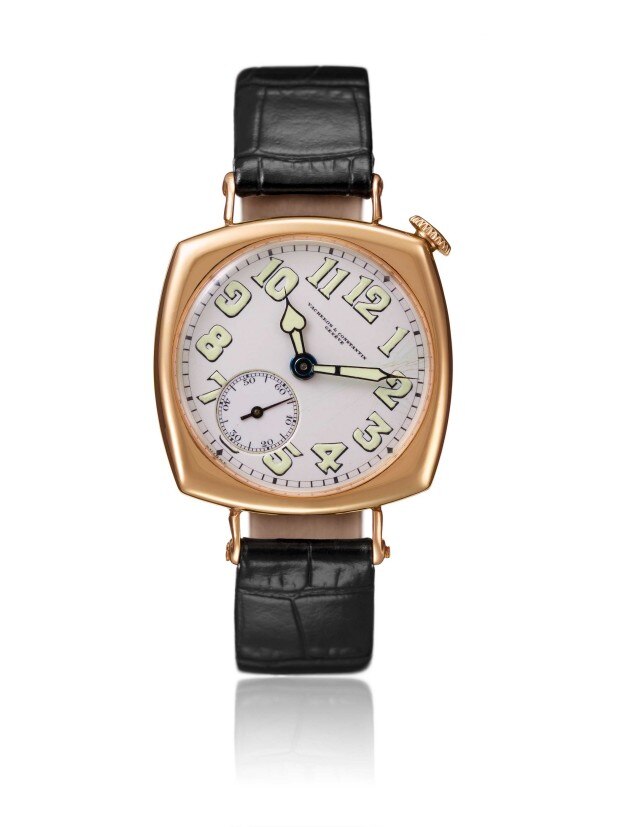 1921
AMERICAN
The cushion-shape design has been part of the Vacheron Constantin portfolio since the late 1910s. In the Roaring Twenties pocket watches were still dominating the trends. Wearing this type of wristwatch was a strong sign of modernity that enjoyed great success among the American clientele.  This rare model is made unusual by the position of the crown at 1 o'clock. It was produced for left and right-handed people for a short period of 10 years. The early wristwatch movements were based on pendant watch movement constructions.  Referenced under caliber 11''' ART they were finished using classical pocket watch finishes such as gilt bridges and main plates. Within these calibers a special finishing was reserved for the American market, which was known for its demanding customers.  The variations were caliber  11'''62 and 11'''78, which were equipped with an extra ruby. Their bridges and mainplates were usually made in German Silver alloy, which naturally protected them against corrosion.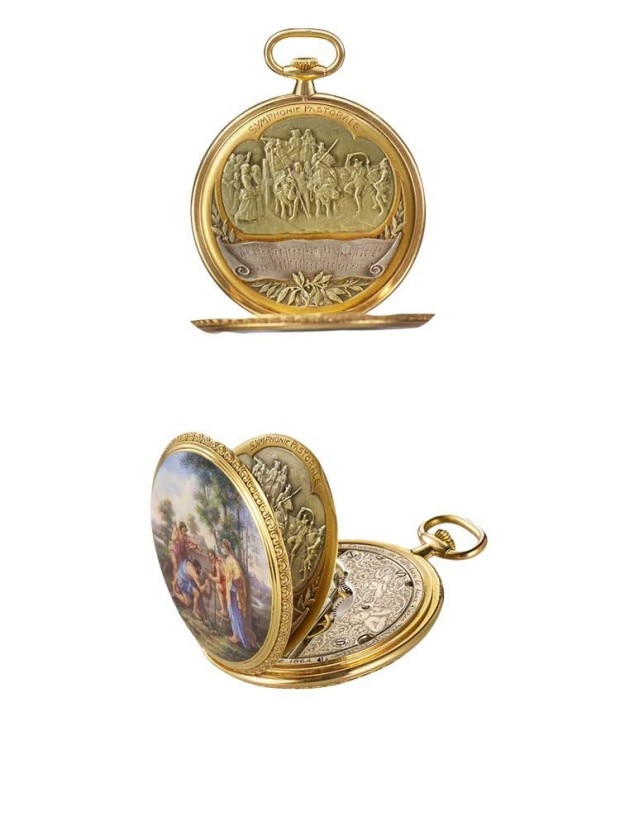 1923
LES BERGERS D'ARCADIE
This magnificent pocket watch is decorated with an enamel miniature of Nicolas Poussin's pastoral painting Et in Arcadia ego. The enameling was carried out by Louise Goll, one of the leading Genevan miniaturists of the early 20th century. The dust cover features an engraving based on a Léopold Robert painting, The Arrival of the Harvesters in the Pontine Marshes, below which is found an excerpt from the score of Beethoven's Pastoral Symphony. A masterpiece of the collection, with a movement entirely engraved by hand, it displays the talents of the Maison's craftsmen, proof that the artistic crafts are inseparable from both the history of fine watchmaking in Geneva and Vacheron Constantin.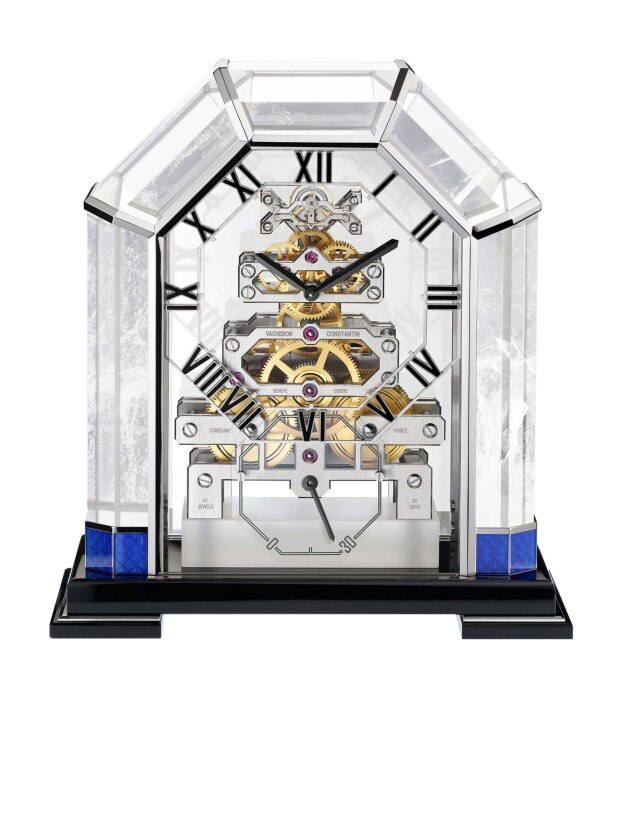 1931
Arca
Produced in 1931 and used to power the Arca clock, this patented skeleton movement with a 30-day power reserve features a constant force escapement. Patent no. 142508 was registered in 1929 by the renowned watchmaker Philippe René Jaccard, famous for his work on chronometers and constant force calibers. That same year, Vacheron Constantin won the Concours de la Rive competition organized by the Société des Arts. The aim of this prize was to reward the use of an R. Jaccard constant force system in a pocket watch. A very similar model (Reference number 3354) was then presented at the Swiss National Exhibition in Zürich in 1939.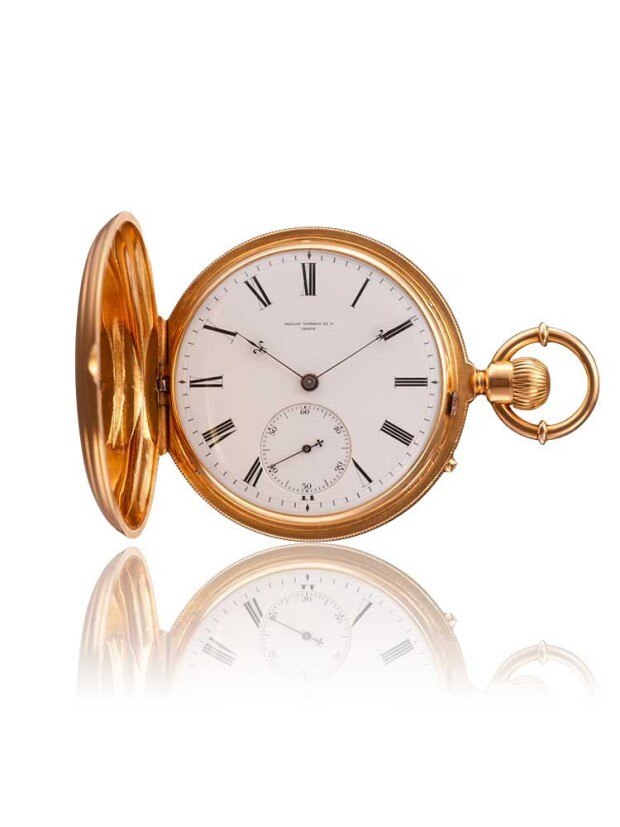 1932
HEURE UNIVERSELLE
In 1932, Vacheron Constantin's collaboration with Louis Cottier led to the creation of the first watch featuring the Cottier system, the Heure Universelle, reference number 3372. Its unique mechanical movement features 24 time zones by means of a disk that rotates around the central dial and by an outer bezel on which are written the names of 31 major international cities. A new complication that responded perfectly to the evolving means of communication and transport. Ever-present within the Maison's current collections, this complication has undergone multiple developments often linked to the geopolitical situation of different countries.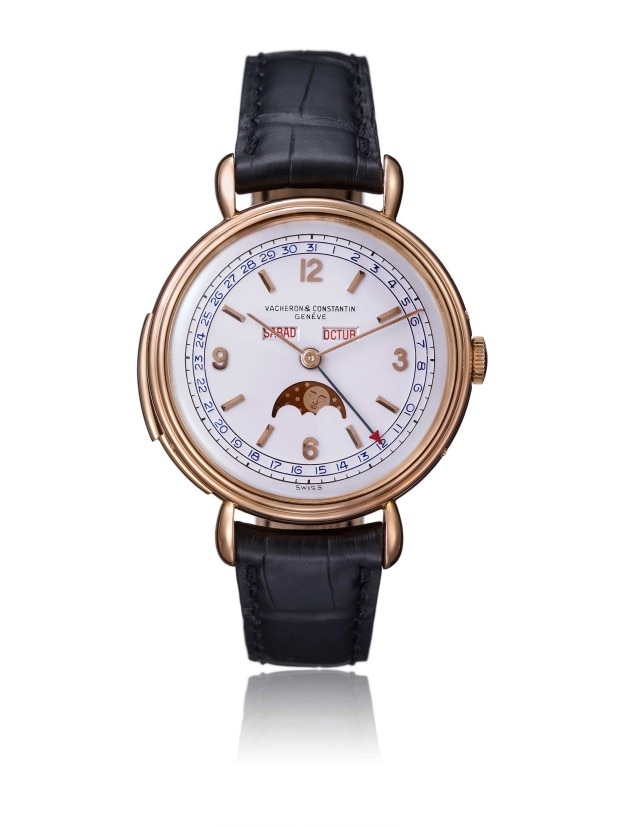 1943
4293
This highly complicated wristwatch with its 38 mm pink gold case features a minute repeater and a triple calendar with moon phase indication. This piece is the perfect blend of the emblematic Vacheron Constantin design of the 1940s, especially with its droplet-shaped horns, with a high level of technical watchmaking skill, expressed through the exceptional caliber.
1946
FAROUK
Vacheron Constantin created one of its most complicated watches for King Farouk, son of King Fuad I of Egypt, who inherited his father's appreciation of fine watchmaking. It took five years to compete this masterpiece, featuring 14 complications. This striking watch with two gear trains is made of 18K yellow gold. It features a carillon minute repeater with grande and petite sonneries, equipped with three gongs and three hammers, a split-seconds chronograph and 30-minute counter, a perpetual calendar, a moon phase and moon age indicator, an alarm, and two power reserve indicators.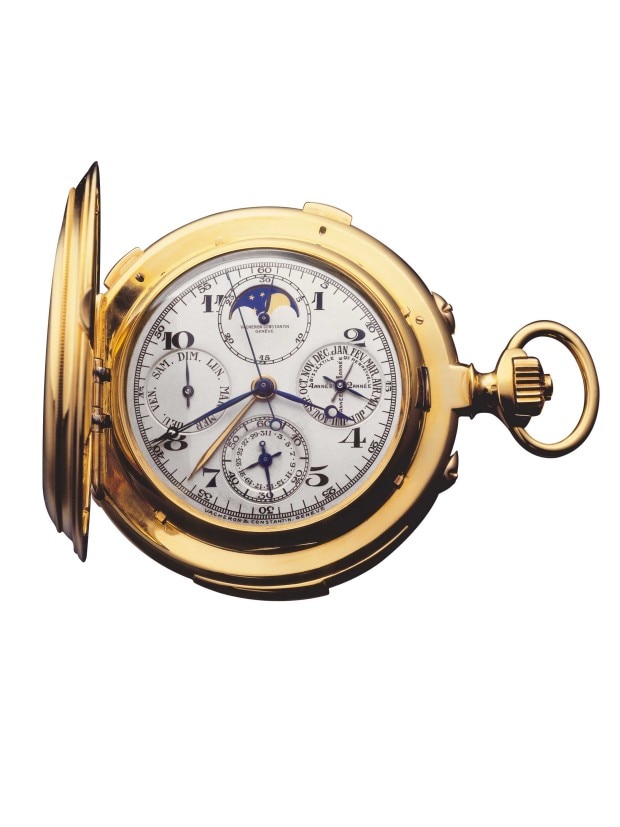 1948
BOISROUVRAY
This exquisite keyless pocket watch with a large hunter case in 18K gold features a Guillaume balance. It is made up of a carillon minute repeater with three hammers striking three gongs, a perpetual calendar with leap year and moon phase display, a split-seconds chronograph, a totalizing counter, and even an alarm. This piece was sold to Count Guy de Boisrouvray in 1948. Until 2015, this grand complication was the third most complicated watch ever produced by Vacheron Constantin.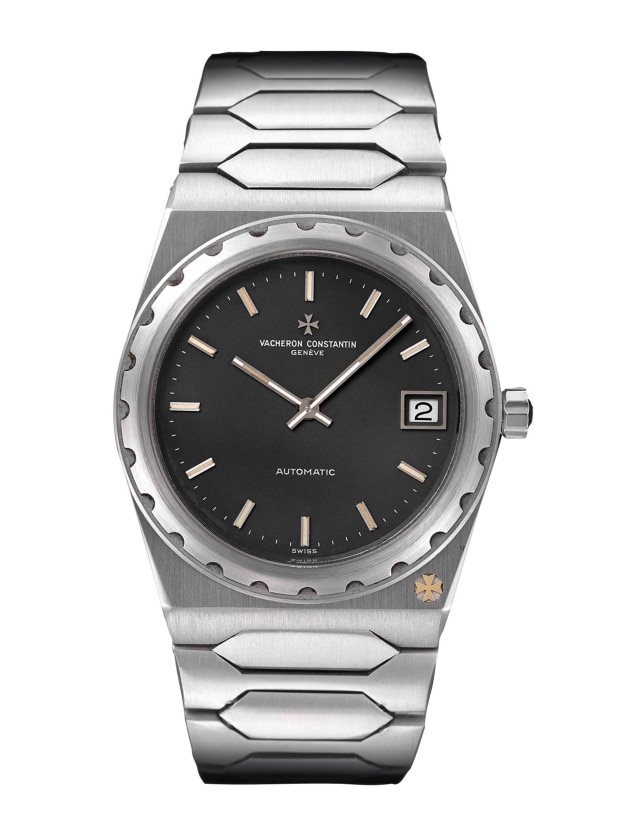 1977
222
This characteristic watch was launched in 1977 to mark the 222nd anniversary of the Maison. Its monobloc case on a fitted bracelet features a porthole-style screw-held bezel providing resistance to wear in harsh environments. Its unique character has made this emblematic piece one of the most recognizable Vacheron Constantin models over the decades. The 222 also inspired a collection that is just as remarkable, the Overseas.
1979
KALLISTA
Carved out of a one-kilo gold ingot and set with 118 diamonds totaling 130 carats, the Kallista model (Greek for "most beautiful") is one of the most dazzling horological creations. It took five years to cut and assemble all the diamonds and more than 6,000 hours of work to complete the masterpiece.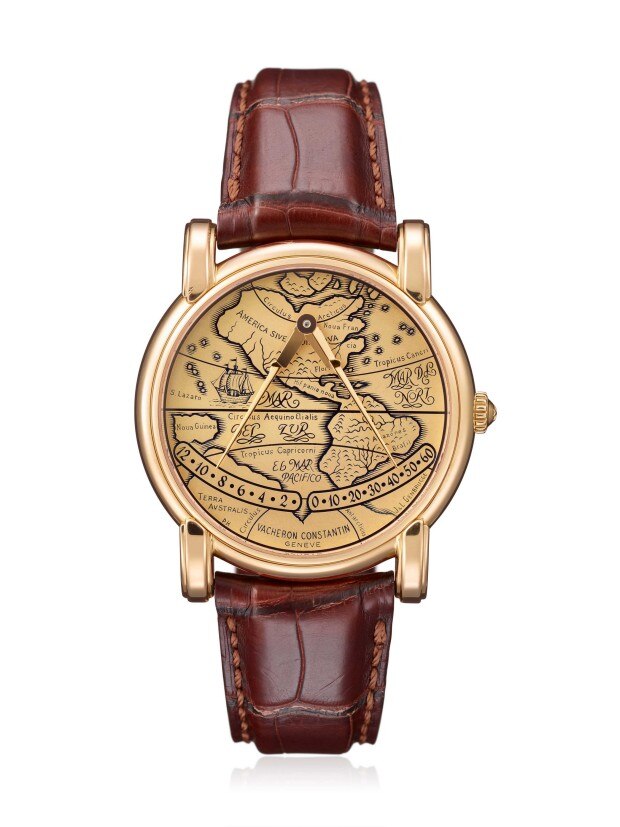 1994
MERCATOR
Enameling is a specialty of the Maison and has featured on a number of different models, one of the best known of which is dedicated to Mercator (1512-1594). This famous Flemish mathematician and geographer, whose real name was Gerhard Kremer, drew the first flat projections of the globe. Traveling is a recurrent theme at Vacheron Constantin, so the company decided to mark the 400th anniversary of the cartographer's death by launching a collection in his name. The dial reproduces in enamel the maps of the hemispheres drawn by Mercator himself and the retrograde hands in the shape of a compass were devised especially for the occasion.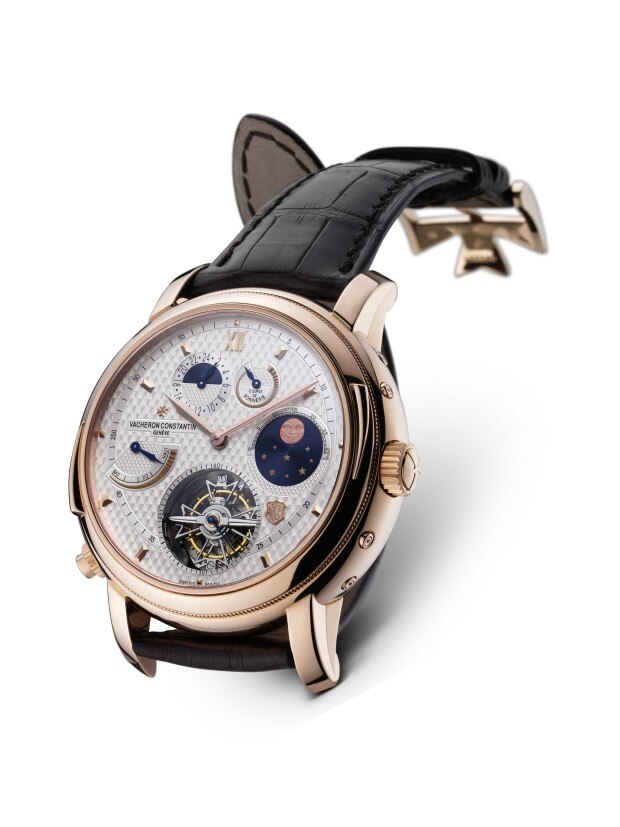 2005
TOUR DE L'ÎLE
A masterpiece presented by Vacheron Constantin to mark its 250th anniversary, this watch is superlative in every respect. With an unprecedented combination of 16 grand complications, the Tour de l'île is the most complicated two-sided wristwatch ever produced in a series. Only seven were made. It would go on to win the Grand Prix de l'Aiguille d'or at the Grand Prix d'Horlogerie de Genève.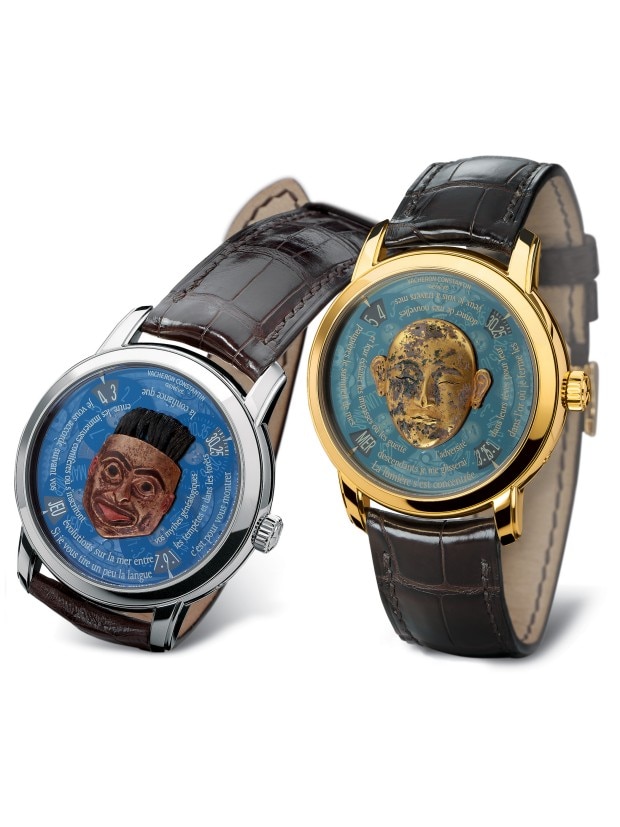 2007
MÉTIERS D'ART LES MASQUES
In 2007, Vacheron Constantin presented the Métiers d'Art collection Les Masques. A long journey through space and time, to the very roots of humanity. Twelve masks from the Barbier-Mueller collection were selected to be chased and engraved in gold, these miniature works sitting majestically at the center of the dial. This collection perfectly reflects the history of Vacheron Constantin and its spirit of openness to the world.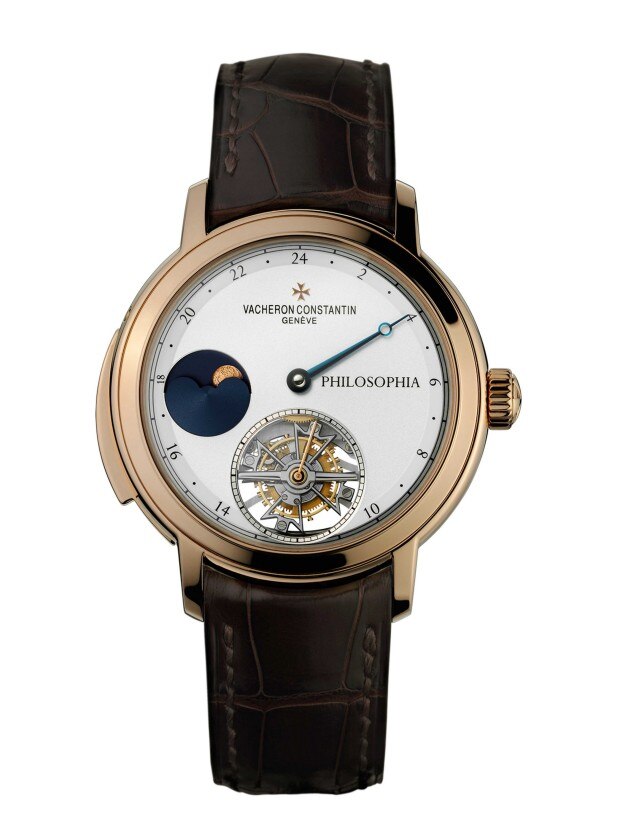 2009
PHILOSOPHIA
This special order watch offers a different idea of time, blending fine watchmaking and a philosophical vision of time. Inspired by the Traditionnelle collection, this watch features a single hand indicating the hours on a 24-hour dial. Other complications requested by the collector who commissioned it include a minute repeater, a moon phase indicator, a tourbillon, and a power reserve indicator. No fewer than 552 parts went in to producing this masterpiece of watchmaking.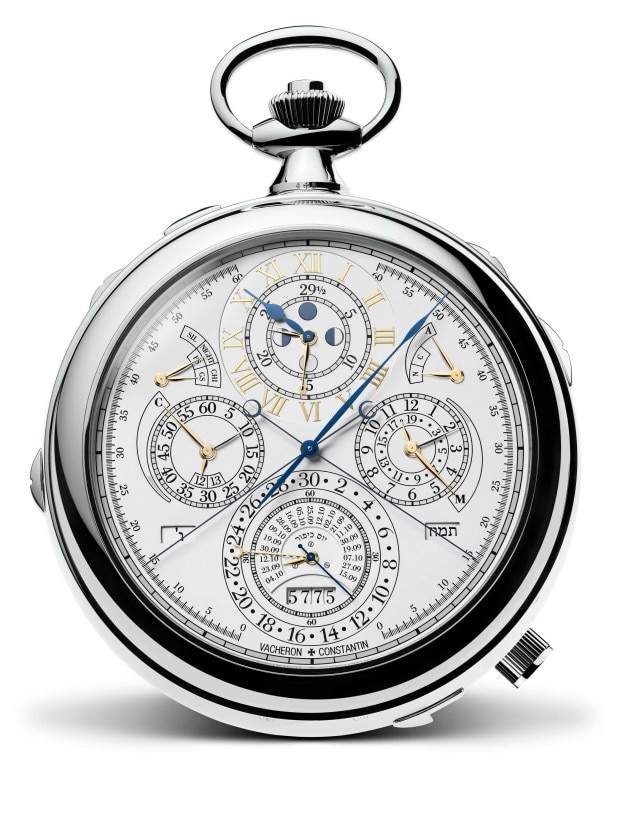 2015
REFERENCE 57260
Revealed on September 17, 2015, on the Maison's 260th anniversary, reference 57260 is the most complicated watch ever made. A full eight years were necessary to develop this exceptional piece, featuring, as its name indicates, 57 complications. A special order from a passionate and knowledgeable collector, reference 57260 once again demonstrates the expertise of the Atelier Cabinotiers division, carrying on the tradition of made to measure excellence. Reference 57260 won the Jury Prize at the Grand Prix de l'Horlogerie de Genève.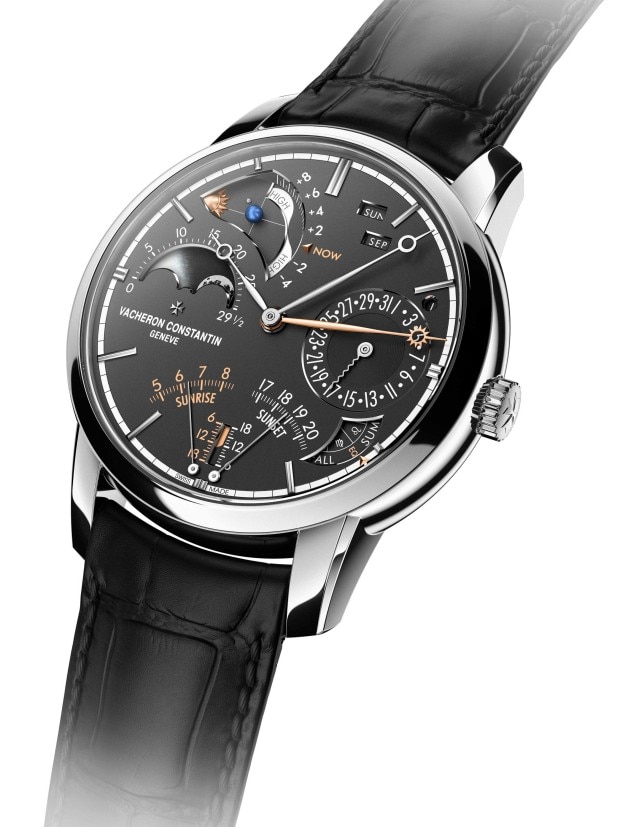 2017
CELESTIA
An exceptionally complicated watch. There is no better way to describe the Les Cabinotiers Celestia Astronomical Grand Complication 3600. Its caliber 3600, a mechanical movement with automatic winding, features 23 complications and allows for the reading of civil, solar and sidereal time, each powered by its own gear train. It is the pinnacle of technical skill, with a fully integrated caliber, featuring 514 parts but only 8.7 mm thick. Its six barrels guarantee three weeks of power.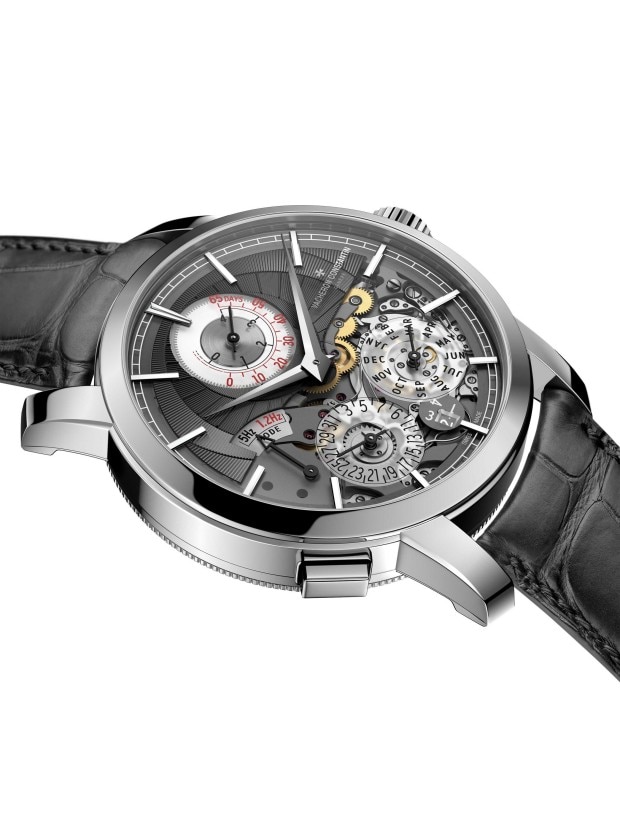 2019
TWIN-BEAT
When worn, the Traditionnelle Twin Beat perpetual calendar movement beats at a high frequency that is aligned with modern active lifestyles, displaying the hours, minutes, date, month, leap year cycle and power reserve on its dial. A feat of technical prowess, this unique piece utilizes a patent-pending mechanical system that allows instantaneous switching between high-frequency Active mode (5Hz, 36,000 vph), and low-frequency Standby mode (1.2Hz, 8,640 vph). Both the Active and Standby balances are driven by the same mainspring barrel, which is the most efficient way of distributing energy and the only way to have a single power-reserve indication. When the watch is not being worn, it allows for an extended power reserve of at least 65 days.
THE SIGNATURE OF EXCELLENCE
Prizes and awards are certainly not an end in themselves. Recognition from our peers, however, does reflect the work and commitment of our Master Watchmakers and Craftsmen.  
Experience our watches in person
Come feel the craftsmanship of true watchmaking on your wrist at one of our boutique locations around the world.
Explore our boutiques