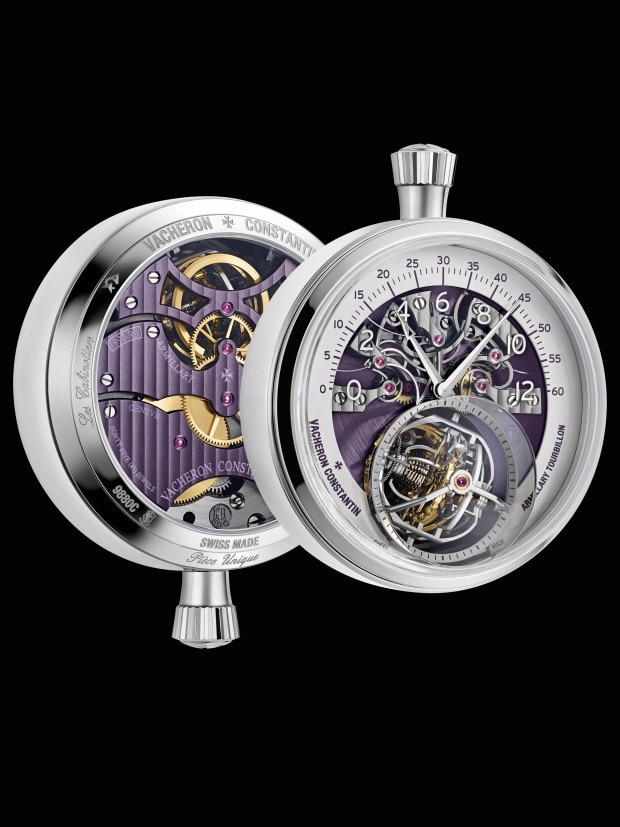 Designed exclusively for the Rolls-Royce Amethyst Droptail
Les Cabinotiers Armillary Tourbillon
A client with a passion for watchmaking and coachbuilt motor cars brings two leading brands, Rolls-Royce and Vacheron Constantin, together in a unique bespoke design project.
Equipped with a bi-axial tourbillon and double retrograde display, the single-edition Les Cabinotiers Armillary Tourbillon is housed in a secure, removable holder custom designed by Vacheron Constantin engineers to fit into the fascia of the Rolls-Royce Amethyst Droptail.
THE BESPOKE WORKSHOP OF YOUR DREAMS
Reviving the spirit of 18th-century Geneva is the ambition of this extraordinary workshop. At that time, prestigious dignitaries of European courts commissioned their watches directly from the ''cabinotiers''. Almost entirely unique in the watchmaking industry, this exclusive service is based on the Maison's expertise and ability to listen. Fulfilling the watchmaking dream of our customers with a concern for absolute satisfaction, that's the vocation of Les Cabinotiers department.
To respond to the client's requests, Vacheron has an extraordinary range of artistic skills at its disposal. The Manufacture's guilloche experts, enamelers, engravers and jewelry setters proudly continue the age-old traditions and help bring to life timepieces that are unique to the world.
Contact a specialist
The incredible story of the "Bid for the Louvre" auction
A bespoke Les Cabinotiers watch was auctioned off at the "Bid for the Louvre" sale organised to benefit the museum's solidarity projects in December 2020, initiating a new offer entitled "A masterpiece on the wrist". After two years, the adventure gave birth to a single-piece edition watch: Les Cabinotiers – Homage to Pierre Paul Rubens, La lutte pour l'étendard de la Bataille d'Anghiari.
The Maison and Le louvre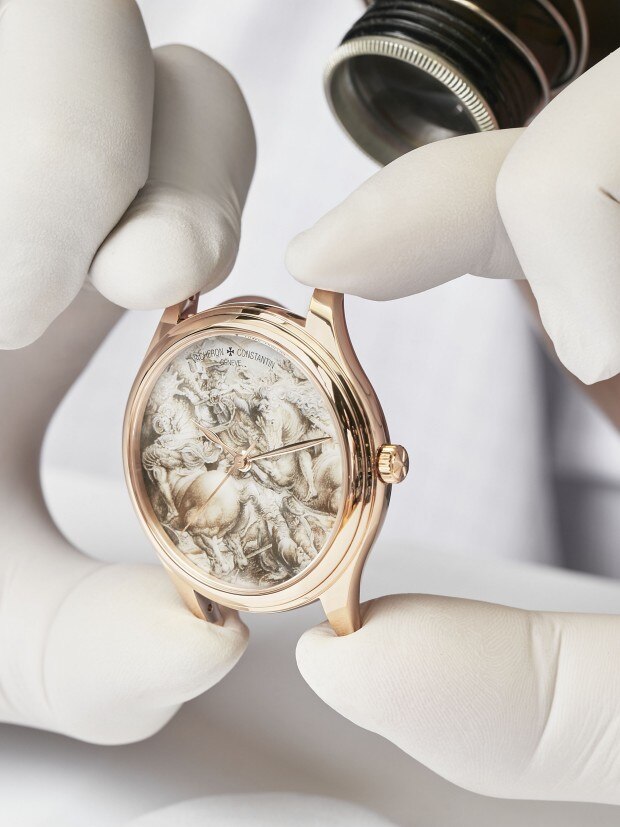 Homage to Pierre Paul Rubens
La lutte pour l'étendard de la Bataille d'Anghiari
The master enameller has drawn on his expertise in grisaille enamel, to reproduce the sensitivity of the artwork with a multitude of interlocking micro-details identically replicated while retaining the graphics and specificities of the original work.
As unprecedented as it is brilliantly executed, this combination of miniature enamel and grisaille enamel has given rise to a timepiece driven by in-house Calibre 2460 SC, featuring an oscillating weight engraved with a depicting of the Louvre's east-facing facade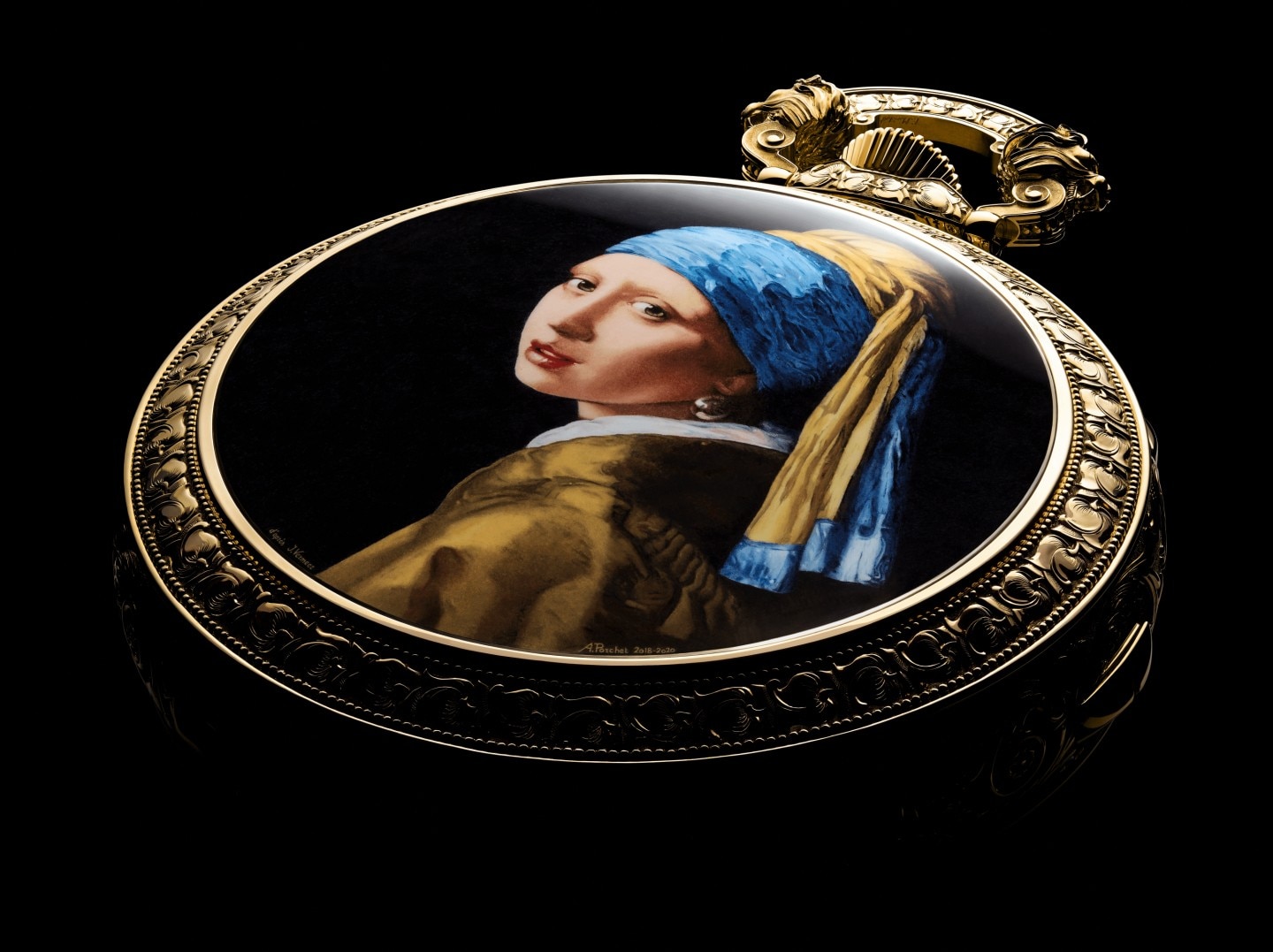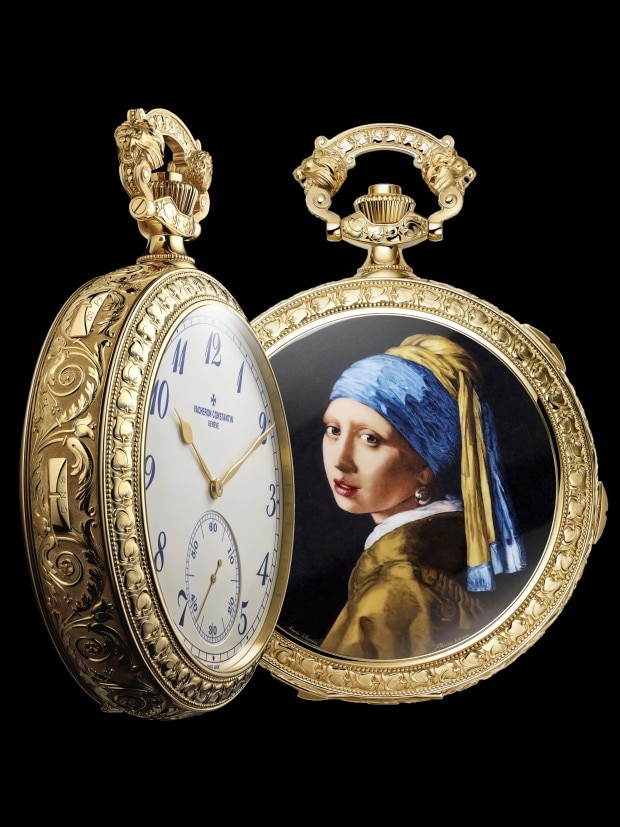 Tribute to Johannes Vermeer
Les Cabinotiers Westminster Sonnerie
Les Cabinotiers Westminster Sonnerie – Tribute to Johannes Vermeer is a bespoke, single piece edition incorporating the full palette of skills cultivated by Vacheron Constantin, from Haute Horlogerie to the decorative arts. It is equipped with a new in-house movement, Calibre 3761, specially developed by the team of watchmakers responsible for the Reference 57260 watch.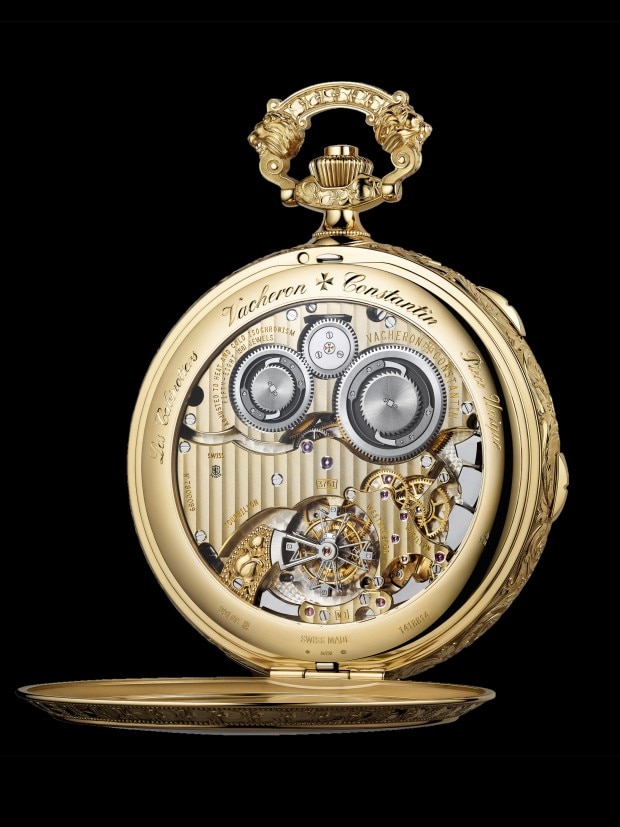 The craftsmanship adorning this timepiece is equally extraordinary. The case is hand-engraved on its bezel, back and sides using various artisanal techniques, as well as topped by a bow adorned with two hand-sculpted lion heads. The officer-type caseback is stunningly enhanced by a miniature enamel reproduction of Vermeer's famous painting Girl with a Pearl Earring, created by enameller Anita Porchet.
MADE-TO-MEASURE SERVICE
THE PINNACLE OF BESPOKE
Secrecy and confidentiality surround the majority of these special requests. Insane, daring and extravagant, these pieces tell more than they show.
Everything starts with a story, one which can be told by its owner.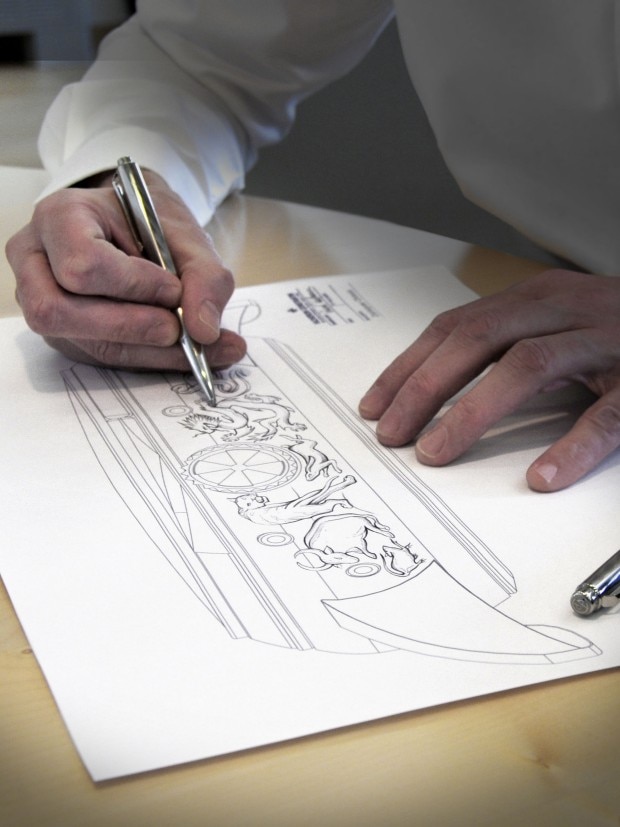 After listening to your story, the conception of your bespoke Vacheron Constantin timepiece begins with a single line on paper. From there, our master watchmakers begin realising and crafting your vision without compromise. The only limitation is your imagination.
REALISE YOUR VISION
CRAFT YOUR BESPOKE TIMEPIECE
Contact our team of specialists to learn more and start creating your unique Vacheron Constantin timepiece.
Contact a specialist